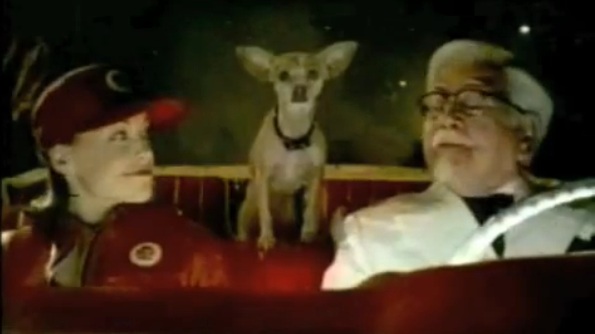 So much Star Wars is happening around us. As I'm typing up this post, we literally got an announcement that Rian Johnson is directing a brand new trilogy of Star Wars related films. That's crazy! Especially when considering that just a short hop ago, we were yearning for any news on a hot little Star Wars feature called Episode I. It was a Menace of Phantoms, but the merchandise was certainly the opposite of that. We drowned in tacos shaped like droids and pizzas that had little Jedi lightsaber pepperoni! Well, I'm lying. We didn't. That would have been great compared to the insufferable amount of fast food games and cheap plastic we did get. In fact, Yum! Brands aligned all of their fast food powers to make the ultimate Fast Food Star Wars team. Join us in considering the Jedi Mind Powers of Colonel Sanders, won't you?
Aaron Littleton hosts this week, which is good considering the tragic incident that occurred with the Taco Bell dog earlier. John Hurst co-hosts, polishing the carbonite chambers deep within Skywalker Ranch.
Be sure to like us on Facebook, rate us on your favorite podcasty thing  and tell your Star Wars Memorabilia all about us!
Write to us at questions@videodeathloop.com!